Jewellery enthusiasts always go for authentic pieces. If you've got a penchant for all things sparkly and timeless, then explore polki jewellery online in India. Imagine a blend of tradition, craftsmanship, and a whole lot of dazzles—yes, that's Polki jewellery! So, let's explore the charm and beauty that make polki jewellery a timeless treasure.

Why do women love polki jewellery?
Polki jewellery is a first choice for women because of its bold and beautiful appeal. Polki is an uncut diamond, crafted with the utmost precision. The process of making polki jewellery makes it a rare find, and that's why people love it. When it comes to special occasions, everyone wants to wear something unique and stunning. If you are also searching for the same, explore polki sets by Hazoorilal.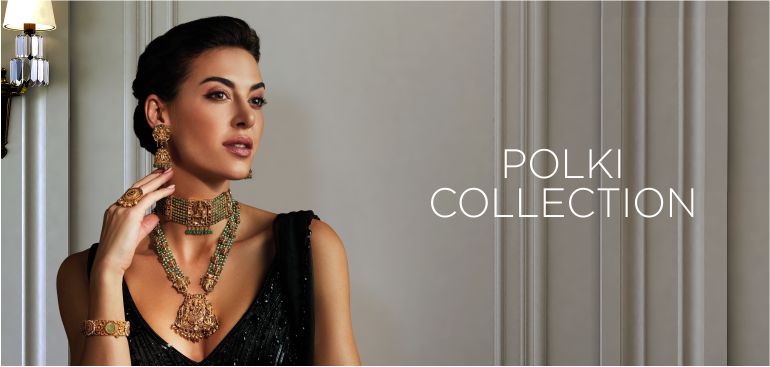 Here are the top 5 polki jewellery pieces that promise to add a regal charm to your ensemble.
Necklace: – It's an ideal choice for your wedding look! Handcrafted with precision, this necklace is the epitome of elegance. Polki jewellery, known for its soaring popularity, takes centre stage in creating a look that's both timeless and trendy. Hazoorilal polki sets are famous for their intricate designs and authentic look. Explore now!

Ring: – A polki ring is not just a piece of jewellery; it's a statement. Imagine the sparkle on your finger, reflecting the joy of the moment. It's a small but mighty addition that speaks volumes about your style and sophistication. A ring is a token of love, which makes your bond stronger with your partner. So, it's time to surprise your partner with a polki ring!

Bangles:- Polki bangles are the perfect companions for your wrists. They effortlessly blend tradition with modern aesthetics, wrapping your wrists in a graceful dance of artistry. Buy polki jewellery from Hazoorilal and let the jewellery add elegance to your look.

Mangtika: – Let's adorn the forehead with the mangtika to get a regal look. This piece not only adds a touch of tradition but also frames your face with subtle grace. A delicate balance of heritage and style, the Mangtika completes your regal look with finesse.

Earrings: – No royal ensemble is complete without the perfect pair of polki earrings. Whether it's a traditional Jhumka or a contemporary stud, these earrings add the finishing touch, framing your face and highlighting your natural beauty.

In essence, when it comes to the best polki jewellers, Hazoorilal is one of the leading brands. They have expert craftsmen to design jewellery pieces that will give you an eternal look. Thus, make your special occasion unforgettable with our beautiful polki jewellery collection.