The traditional royal vibe is the cornerstone of polki jewellery. It is a time-honoured practice to pair it with traditional outfits or clothing, like sarees, lehngas, and anarkalis. The richness of its intricate designs brings a charismatic elegance to the look of the wearers.

Setting uncut diamonds on the metal base and carving their edges or designing their looks to make polki necklaces and earrings, etc., is the epitome of expert artistry. Hazoorilal polki jewellery online in India is a perfect way to engross in the real shine of uncut diamonds. Their timeless touch of richness matches best with traditional attire, so you can find most women wearing them to their weddings.
In this blog, we've discussed how polki jewellery complements traditional looks. Read on to learn them.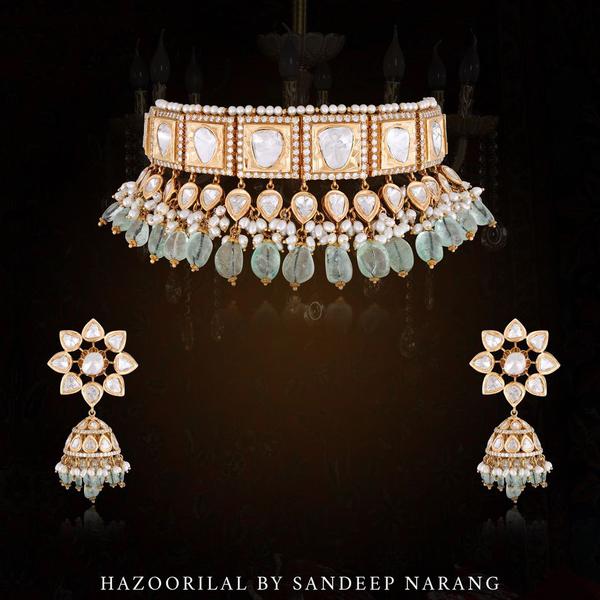 Hazoorilal Polki Jewellery Online in India
Versatile designs
Polki ornaments are available in different designs and styles. This makes them versatile enough to match with different traditional outfits. Exploring Hazoorilal polki jewellery online in India, you'll find an array of options, like polki earrings and rings. You can buy them for both embroidered lehengas and simple banarsi sarees.
Enhanced fashion style
With its sophisticated setting of uncut diamonds and intricate gold work, polki jewellery is able to complement the simplest of traditional outfits. So, you can buy Hazoorilal polki jewellery for your casual look too.
Vibrancy in appearance
There are most polki jewellers who offer ornaments that feature precious coloured gem-studded pieces. The coordination of them with polki or uncut diamonds exudes unique vibrancy in the overall appearance of ornaments like polki bangles.

If you're the one whose heart falls for both diamonds and gemstones, you can opt for Hazoorilal's polki jewellery online in India. It may give your treasure trove a unique addition.
Mix and match
The best part about buying polki jewellery is that you can mix and match it with other types of jewellery as well. This is one of the major requirements for styling traditional looks, like at weddings. Pairing polki necklace sets with gold bangles will help you achieve a personalised look for your special moment.
Apart from these, the cultural significance of polki jewellery makes it an ideal choice for cultural events and festive occasions, where seeing women carrying traditional outfits is usual. Hazoorilal Polki Jewellers has the best collection for you to adorn your special occasions with the royalty of uncut diamonds.
Buy luxurious Hazoorilal's polki sets for your special looks!
Polki jewellery is most people's preference. Its significance in styling traditional looks is popular among most women in India. If you're too willing to add it to your special looks like weddings, festive events, or cultural events, you can go for Hazoorilal polki sets. They have a remarkable, charismatic appearance.